I'm the London bus voice!  Ta dah!
My voice was put into the 'fray' in 2005, in 2006 we tested on the route 149, before beginning the huge job of recording for all bus stops and all routes across London.  Since then, I have loved working with Transport for London (TfL) and being the London bus voice has introduced me to new people, opened doors, raised eyebrows … and potentially I reckon impressed the bloke who's now my husband (though if you ask him he might say that something else impressed him first).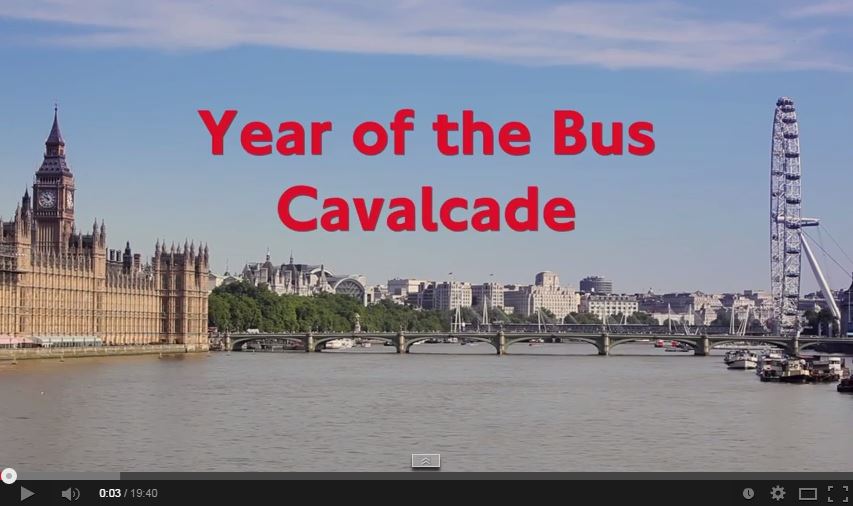 London Bus voice at the London Bus Cavalcade
And so, on 22nd June, 2014, I played just a little part in the Bus Cavalcade, highlight of the Year of the Bus event which saw Regent Street closed and best part of 50 buses parking up for the day.
And since then I've voiced this beautiful film of the day.
And if you really really want to catch a glimpse of the London bus voice, then go to 18 minutes and 14 seconds and you'll see the last bus, the one nearest Oxford Circus, and in the middle of the bus, in shaddow, is me! Honest!
I spent the day recording personalised messages for anyone who wanted one.  I've said it before, I'll say it again, I'm anonymous as the London bus voice, but this voice over artist was blown away by the number of people who queued to meet me!  Seriously … I had a 10 min max break once an hour, and apart from that we had four hours plus of recordings!
I did, before I started recording on the day, potter down Regent Street, and potter back up.
In retrospect, I missed so much of what was going on but was once again honoured to play my little part of Transport for London's ibus system.  My hubby and my little boy did get to explore a bit more, but this London bus voice is making the most of this film to fill in the gaps, to see the bits I didn't have the opportunity to see on the day!