The Royal County of Berkshire Show
This television voiceover, accompanying the animation, was produced by Muddy Boots PR to promote The Royal County of Berkshire Show in 2014. I prepared the voiceover in my own voiceover studio, with direction from the Muddy Boots PR team, and the voice was then added to the prepared animation.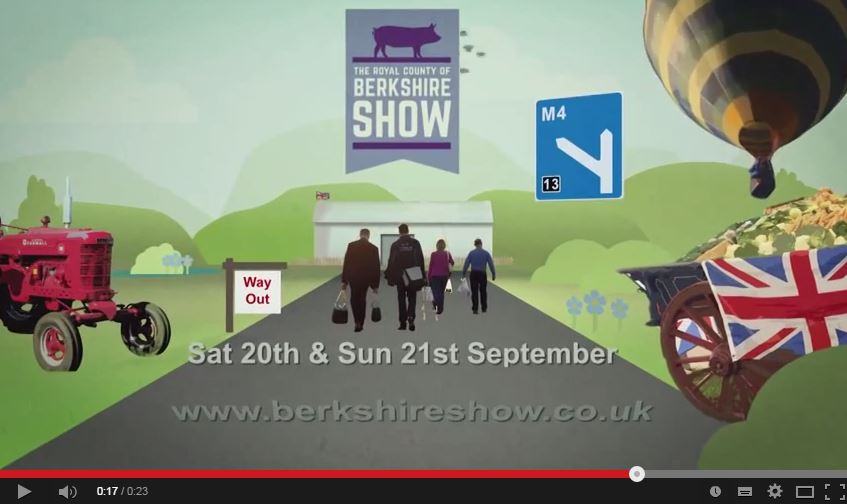 So how's a television voiceover booked and recorded?
A television voiceover such as this can be turned around quickly, if the client's deadline requires.  With my own equipment ready to switch on at any moment, it literally can be that the request comes in and the finished audio is delivered within the hour, even quicker.  If you are able to use ISDN then you can have the audio in your studio ready to use within 5 or 10 minutes.
If you don't have ISDN but still wish to listen in to a voiceover being recorded, to direct the session to get just the result you need, then Skype is the ideal way to direct the recording session.  It doesn't interrupt the microphone (which mobile phones will do) and with group Skype calls possible you can have the producer and client listening in at the same time.
I work in this way with a number of clients, and not just in the UK.  Agree a time that works for both parties, and you can have Skype calls to direct voiceovers from anywhere in the world.
The television voiceover is akin to a radio voiceover, or any advertising voiceover.  If you wish to hear my demo of commercials that I have worked on, please click through to my demo page.  If this isn't quite what you're looking for, why not get in touch.  I might have a voiceover file sitting on my computer which is just what you're looking to hear – or alternatively I could produce you a bespoke demo so that you can hear my voice with your words.