On Saturday this week, I participated in something I am very proud of… Darkness to Light – a commemoration of the 70th anniversary of the liberation of Bergen Belsen concentration camp at the end of World War II.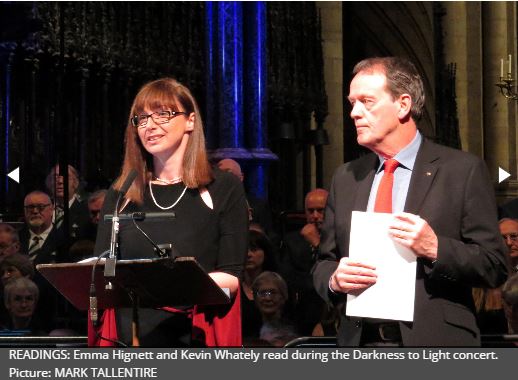 The event in Durham Cathedral was beautiful – moved many to tears – and is reviewed in the Northern Echo better than I possibly could – click here.
But my experience was humbling.  It's possibly the speaking performance that I have rehearsed most for … it's never felt so important to get it right, to get the sentiment right, and to not trip over a word.  I stood on a stage with the ever-so-lovely, charming, effortlessly friendly Kevin Whateley, and because I was not involved in the second half was able to experience it with my husband from the heart of the Cathedral.
I knew not becoming emotional was going to be the challenge, which meant that I had to turn away from the parade of school children carrying shoes and the names of children, as young as 1, who'd died in the Holocaust.  Whilst normally I would let the tears stream, I knew that composure was essential I was was to deliver the following reading.
So back to my headline, I was honoured to be asked to participate, and very proud to have participated in a very fitting commemoration.