Emma Hignett, female British voice over and broadcaster.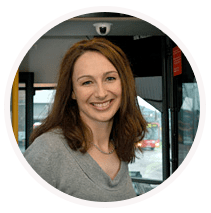 I often get asked how I became a voiceover artist. Here's the story …
In 2014, I built my own studio in my Teesdale home.  With high-speed internet and ISDN, geography is no hindrance; I work regularly with clients around the globe, from the US to the Middle East to China, across Europe, and of course right around the UK.
My first voiceover work however was in the early 1990s, shortly after I began presenting traffic news on London radio stations.  At that time, my broadcasting career was developing and growing, but I also began doing a few voiceovers when I was asked.
My broadcasting career began in 1993 working for Metro Traffic Control presenting rush-hour traffic bulletins on London radio stations.  I fell head over heels in love with radio, and in the following 10 years had the pleasure of working for Heart FM (West Midlands), Jazz FM (London and North West), Red Dragon FM (South Wales) and Capital Gold (London).  I presented Red Dragon FM's breakfast show with Jason Harrold for nearly 5 years … that will always be remembered as my favourite radio job!  I also became a television weather reporter for HTV, as well as occasionally for other ITV local stations.
Two things happened in 2005 that changed my 'direction'.  I decided to swap radio presenting for radio programming which took me to the North East.  I was also asked to submit a demo for a new project to record announcements for London's bus network.  You may be aware – I was chosen to voice those announcements (I haven't counted but I reckon we must have done 60,000+ in the 11 years since I started working with Transport for London).
I love living in the North East, and soon after arriving met the man who would become my husband, and before long we had a child.  It was my husband who suggested a voiceover studio at home may be useful!  It certainly is …
With more than 11 years recording announcements for London's buses, and more than 24 years using my voice to earn my living, I do have a few favourite moments to share with you.
The launch of the Transport for London iBus scheme was exciting, but more mind-blowing was the day spent on a bus on Regent Street in London recording personalised announcements as part of the celebration for Transport for London's 2014 Year of the Bus.  What was most surprising was the number of people who turned up to say hello to me!
In broadcasting, working with Jerry Springer for a week, co-presenting the drive-time show on the Capital Gold network was a unique experience.  But my broadcasting career also gave me some exciting opportunities such as interviewing Hollywood stars Brad Pitt, Catherine Zeta Jones, and Joseph Fiennes.
But of course, one of my step daughters is most impressed that I have a photograph with Darius!  Yes, seriously!
Back to my life, I apologise in advance to anyone who calls me to discuss work when I'm out in the local fields walking our (barking mad) Brittany spaniel!  Please forgive me because the conversation will be punctuated by me shouting …"Digger!!!"